We welcome volunteers for a variety of positions. All volunteer positions are unpaid. To apply for volunteer work, please fill out the form below and we will get back to you soon! For general questions, please contact our Volunteer Coordinator. 
Fundraising
Event Planning Committee

Do you want to help plan and execute fun and inclusive social events to benefit Bay Area Disc's programs? Are you creative, driven and organized? Then join the Event Planning Committee! This Committee is forming in Fall 2015 to organize social events for fundraising purposes. The Committee meets several times before each event to plan and carry out successful fundraisers. There will be 1-2 annual fundraisers overseen by the Committee, with the first one scheduled for December 2015.

House Party Fundraiser Hosts
In Fall 2015, Bay Area Disc started a House Party Fundraiser program. The idea is to bring your friends together under one roof to celebrate ultimate frisbee and raise funds for Bay Area Disc's programs. Share stories about ultimate, talk about new Bay Area Disc programs, and celebrate the community! Whether you're a club player, rec player, or parent of a youth player, we will provide you with ample support when hosting a fundraising party. When you fill out the form above, we'll email you back with our guide to house party fundraising and coordinate the necessary logistics. 
*For fundraising-specific volunteer questions, please contact our Executive Director.
Communication
Blog Contributors: Events
Are you a skilled writer? Lend your talents to the Ultimate world and report on tournaments and events going on in the area. We want to foster community by providing a forum for recaps of tournaments, leagues and other events that its members are participating in. This position is available both as a one-time assignment and an on-going basis. Write-ups should be a couple of paragraphs long and should be written after attending an event and checking in about the various festivities (including top finishers, award winners, general themes and attitudes). 

Blog Contributors: Success Stories
Bay Area players have a lot of stories to tell -- do you? We would love to read about ultimate frisbee's positive impact on your (or a friend/family member's) life, and then publish it on our blog! 
Photographers
Share your passion for photography! We are looking for some skilled photographers to capture the many great moments that occur during our events. Help us showcase the great talent and fun that exists in the Bay Area Ultimate community. This position can be a one-time assignment, or ongoing service. Photos should be taken of the entire event (i.e., all teams if at a tournament or league) and transferred to our media coordinator. 


Events / Leagues



League Director
Host a league through Bay Area Disc! Whether rec or club, in San Francisco or the East Bay, leagues facilitate community as players can all play together in a fun setting. League Directors are in charge of league communication, schedules etc. and should have experience in tournament/event planning. Bay Area Disc will support this position by taking care of field permits/rentals and finances. 
Social Event Organizer
The Bay Area Ultimate community is a thriving entity that exists on and off the field. We are looking for someone to help support the non-playing side of the sport by organizing exciting social events! Whether you are the life of the party, or just really enjoy planning and logistics, this might be the role for you. Bay Area Disc will support this position by providing guidance and resources, leaving plenty of room for you creativity to shine through. Events could include happy hours, fundraisers, picnics, etc. How will you leave your mark on the Bay Area Ultimate social scene?? This position can be ongoing or one-time; just let us know what you'd like to organize! 
Hat Tournament Organizer
Hat tournaments let us meet and play with new people, providing a low-commitment way to fully engage in the Ultimate community surrounding us. The more Hat tournaments we can put on, the more opportunities we'll have to experience this! We are looking for a few qualified people who are organized, focused, and ready to host some epic events! Responsibilities include making the teams, creating a schedule and running the event on game day. Bay Area Disc will support this role by securing the permit, hosting registration and taking payments. Previous experience hosting tournaments is welcomed but not required. 

Tournament Committee Member
Tournaments are tons of fun to play in, but take a lot of work to set up. We are creating a tournament committee to help assist with logistics and organization of events in the community. We want to create a committee that we can draw upon to assist with the organization and facilitation of tournaments. Duties include:

Schedule assistance 

Facilitating car pools 

Field set-up 

Food and water deliveries 

Score/timekeeping 

Clean-up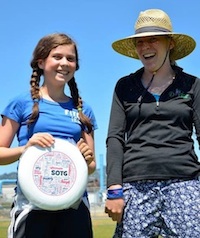 Youth Ultimate Coaching Positions
Bay Area Disc Association is training up the next generation of Ultimate players, but we need your help! Coach team, lead a clinic, or work at camp and help us facilitate programming in which SAFETY, FUN, SKILL, PLAYING TIME, and SPIRIT OF THE GAME are the goals for each player. See our jobs page for paid camp counselor positions.
Team Coaching: Coaching a team is a great opportunity to watch a group of kids come together and improve their skills both with the disc and together as a unit. Team Coaches facilitate the process of learning to play the sport, incorporating fun and Spirit of the Game, including building social-emotional skills and teaching conflict resolution into the game. Opportunities exist to coach teams as part of leagues, at schools, and for tournaments. As a league coach, participate in weekly 2-hour sessions that are divided into part skill development within your team, part game against another team in the league. Bring kids to a tournament and guide them through the ups and downs of playing multiple games together in a day or weekend. Helping an Ultimate team at a local school is another exciting way to get involved. 
Development Coaching: This position involves facilitating drills and skill work to a group of young players, teaching them how to take their games to the next level. This position would serve at Bay Area Disc's youth clinics, and is for experienced Ultimate players. Clinics are typically a one-day commitment for 2-3 hours. Seeing the excitement in kids as they learn to catch, throw and move as a team is a great motivation to participate at this level. There are also opportunities to work with high-schoolers who are refining their games and growing into their athleticism. These youth are the future of Ultimate, and this is a great opportunity to help develop them as players, teammates and community members. 
**Coaching Requirements: Commitment to duration of the coaching assignment. Knowledge of Ultimate and/or previous coaching experience welcomed but not required. Bay Area Disc will support coaches through trainings and will run the logistics of the league. Coaches will be responsible for facilitating the goals of Bay Area Disc Association's youth programming - SAFETY, FUN, SKILL, PLAYING TIME, and SPIRIT. Youth teams are at times broken into age/gender groups such as elementary, middle school, high school, girls, boys, co-ed, with coaching positions available for each. CPR/First Aid and USA Ultimate Coaching Certification are encouraged. Volunteer waiver and fingerprint background check are required. 
Youth Ultimate Assistant Organizer
We are looking for people, including parents, who are very organized and passionate about supporting youth Ultimate through assisting with league, tournament, and/or clinic administration. This position includes crucial responsibilities such as gathering waivers and ensuring that all players have completed their registration, collecting scores, and also maintaining the equipment (discs and cones). This person would also be the point person for emergencies or issues that might arise. Other duties will be discussed and assigned within this ongoing role as needs arise. Assistants Organizers are needed to be the on-site and behind the scenes point person for league, clinic, and tournaments. Support youth Ultimate by helping facilitate programming in which SAFETY, FUN, SKILL, PLAYING TIME, and SPIRIT are the goal for each player and parent that participates!