Bay Area Disc is hiring a part-time Youth Program Coordinator! Applications are due by Monday, February 29, 2016. To apply, please review the Job Description and follow the application instructions.



Other positions: 

Summer Camp Counselors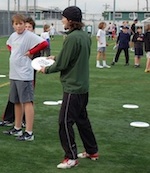 Bay Area Disc runs youth camps where kids get to play for an entire week and really improve as players, teammates and people. We are looking for energetic counselors to lead groups of youth and assist in developing their skills through focused drills and delivering our camp philosophy of safety, fun, skills and Spirit of the Game. These are paid positions, and counselors will work as independent contractors, with compensation varying by position/experience. Most camps happen during the summer, and camp hours are 9:00am - 3:00pm.


All staff will be trained and need to be fingerprinted prior to the start of camp. Spend a week, or the whole summer, building the future of Ultimate! Contact us to apply