Mission 
Bay Area Disc Association strengthens the Ultimate community by creating opportunities for youth, club and adult recreational athletes to interact, develop and compete. We foster positive playing and learning experiences and embrace Spirit of the Game in all aspects of our work and play.
 
Leadership

The Board of Directors is responsible for providing leadership, setting policy, and providing fiscal oversight. New board members and officers are elected in the fall and spring by the current Board of Directors.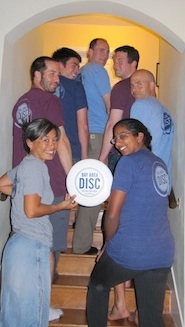 The current Board of Directors includes:

Adam Farren, President 

Bill Liu, Treasurer 

Jesse White, Marketing and Communications Manager 

Rob Srinivasiah, Events Manager 

Manisha (Slap) Daryani, Elite Player Liaison 

Colin Sjostedt, New Player & Events Manager 

Kimmey Hardesty, Development Manager
Bay Area Disc is proud to have two full-time employees (see staff page): Michael McGuirk (Executive Director) and Valerio Iani (Program Director - Youth and Education), as well as part-time staff including Jesse White, Bill Liu, Jennifer Pashley and Allan Jong. 

Heritage 
Bay Area Disc Association was founded in 2008 by the leaders of the San Francisco Ultimate League, San Francisco Ultimate Club, Bay Area Youth Ultimate, East Bay Ultimate League and Marin Ultimate Summer League.
Each of these leagues will continue to operate as they have since their respective foundings, while at the same time, the new organization will combine governance, resources, finances, leadership and planning under a single governing Board of Directors.
This consolidated organization produces many advantages:
We have better capacity to support youth Ultimate in the Bay Area, recruit coaches, foster new programs and create new teams. Through shared finances we gain financial leverage to consider new leagues, better field management and the possibility of (dare we dream it?) paid staff. We are building a stronger organization from which we can nurture new leadership and create new opportunities for Ultimate. We are reducing redundancy in our operations. We are strengthening the Bay Area Ultimate community as a whole.
These advantages are made possible, in part, by Community Initaitives, who is the fiscal sponsor of Bay Area Disc. Scroll down to "Our Fiscal Sponsor: Community Initiatives" for more information.

Community Initiatives, our fiscal sponsor
Community Initiatives enables individuals and groups, working together, to create and invest in projects that benefit the public. Community Initiatives does this by providing fiscal sponsorship and financial, human resources, and grants management services to their projects.
As a result of our relationship with Community Initiatives, Bay Area Disc Association is part of a 501(c)(3) non-profit organization.
For questions regarding our relationship with Community Initiatives please contact us.